EverTrue Mobile launches iPhone App
We are proud to announce to announce the launch of Brent Grinna's (Class of 2004) new venture, Brown Alumni Connect – the official mobile application of the Brown University Alumni Association in conjunction with the launch of his new company, EverTrue.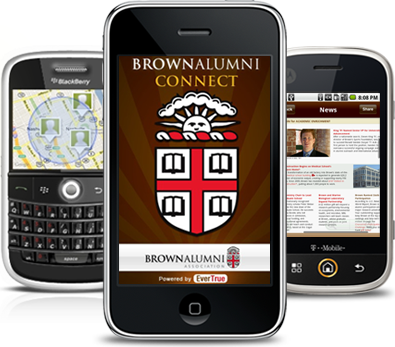 The Reason: You have a lifelong connection with Brown and with Brown alumni, starting with the friends you made on campus and extending through the alumni you meet along the way. Brown Alumni Connect makes it easier to stay connected to Brown and one another. In this inaugural version, you'll connect through news of campus activities and of Brown alumni as well as mobile access to event calendars, reunion schedules, a campus map, Brown videos, and Brown social media. Future versions will include more ways to connect and share content with other alumni.
How You Can Help:
EverTrue's website is
www.evert

ruemobile.com
. Please email
brent@evertruemobile.com
if have feedback on the application or if you think your high school, college or graduate program might be interested in learning more about mobile alumni engagement.