AFILIATE EVENT: Brown's Alpert Medical School Lecture
Dean of Medicine & Biological Sciences Edward Wing will be speaking in Brooklyn at a Bio-Med Advancement event
Alumni, Parents and Friends…
Join the Brown University Club in New York at a
Special Evening Featuring
Edward Wing, M.D.,
Dean of Medicine & Biological Sciences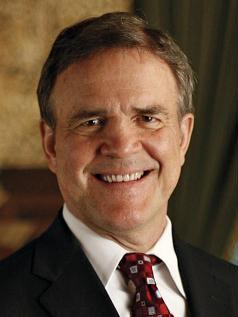 "Health Care: What Will the Future Hold?"
Join Edward Wing for an in-depth conversation about the ever-changing face of health care in Rhode Island and across the nation. Alpert Medical School is actively preparing for the future of the profession. Are physicians changing the way they practice medicine? Will patients need to change their expectations? Dean Wing sees the potential problems and new opportunities, and is implementing change at Brown to serve you and the nation.
Date:
Thursday, December 6, 2012
Time:
7:00 pm – 7:45 pm:
Reception with refreshments
7:45 pm– 9:00 pm:
Introductory and welcoming remarks

Speaking program followed by Q & A
Place: At the home of Steven Pavlakis '76 MD '79, P'05 and Bonnie Messing, 351 Pacific Street, Brooklyn, NY.

RSVP: No charge to attend but please respond online (Click here) by Monday, December 3 so that appropriate seating and refreshments can be arranged. Please note that space may be limited so please RSVP as soon as possible.

Questions? Contact Kimbie Casten '08 at ckimski@gmail.com or at 310.489.6260.
-----------------------------
Dr. Edward Wing is a graduate of Williams College and an alumnus of Harvard Medical School. He completed his internship and residency at the Peter Bent Brigham Hospital in Boston and an infectious diseases fellowship at Stanford University. Dr. Wing began his career in academic medicine at the University of Pittsburgh, where in his twenty-one-year tenure he rose through the ranks to serve as chief of infectious diseases and interim chief of medicine. He became chair of Brown's Department of Medicine in 1998. Dr. Wing's research interests, continuously funded by NIH for two-plus decades, are focused on the immune host defenses against intracellular pathogens. With strong clinical interests in infectious diseases, HIV, and international health, he oversees programs in the Dominican Republic, Kenya, India, Cambodia, Viet Nam, and Russia that provide direct care to hundreds of patients, as well as outstanding educational opportunities for Brown undergraduates, medical students, residents, fellows, and faculty.
The Brown University Club in New York and the Brown Medical Alumni Association
thank Steven Pavlakis '76 MD '79, P'05 and Bonnie Messing for hosting this event.