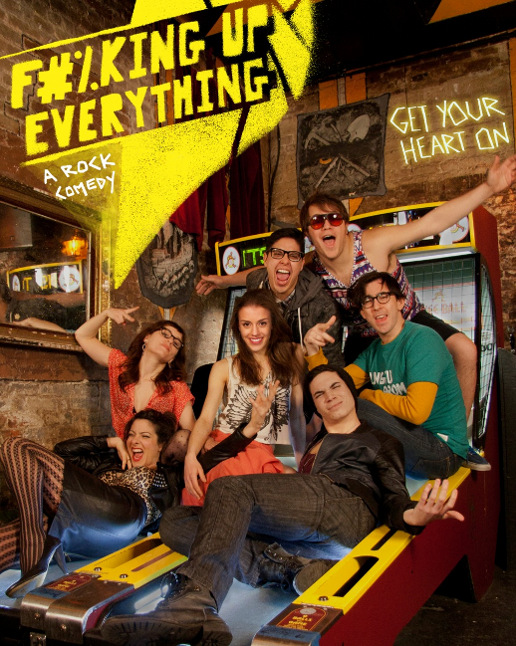 F#%KING UP EVERYTHING is an indie rock musical comedy with heart. Set in today's Brooklyn indie music scene, this indie rock musical comedy is a classic boy-meets-girl love story in a very contemporary setting. When these hipsters aren't true to who they are, they screw up everything. Especially love. And no one screws up more than children's puppeteer Christian Mohammed Schwartzelberg when he meets singer-songwriter Juliana, the girl of his dreams.
So get your heart on! The Brown Club in New York will have a night at the theater on Thursday, April 4th with the hit rock musical comedy F#%KING UP EVERYTHING. Produced by Jeremy Handelman, '77, the show has won awards, earned rave reviews and delighted audiences in its previous productions at the New York Musical Theatre Festival and Woolly Mammoth in Washington, DC.
"F#%king Up Everything is profanely divine...an engaging and amusing rock musical" - NY Post

"One hell of an original show…brilliant music and lyrics…will be at the top of the list for theatre-goers this season" - Garden State Journal

"For those seeking a fresh musical ripe with humor, 'Everything' delivers." - Huffington Post

"Tuneful score, endearing characters and charming cast" - Show Business Weekly

"Easily a contender for best Off-Broadway show of the year…the laughs and great music just never stop."- ReviewFix

"Classic boy-meets-girl romantic comedy…undeniable heart" - Associated Press

"Exuberant songs executed by a vibrant young cast" - BackStage
There are no more group tickets for this Brown Club event. However, regular tickets can be purchased for the April 4 show and for other performances of F#%king Up Everything
https://web.ovationtix.com/trs/pr/920840
DATE: Thursday, April 4
TIME: Performance at 7pm but bar opens earlier; performance runs 100 minutes followed by talkback
PLACE: The Elektra Theatre, 669 Eighth Avenue between 42nd-43rd Streets
TICKET PICK UP: For those of you who are attending as part of the Brown Club event, there will be a Brown Club representative stationed near the box office, which is at 669 Eighth Avenue between 42nd-43rd Streets under the LED marquee. It is part of the "Times Scare" venue. Enter, go up the short flight of stairs, and continue through to the "Parlour of the Paranormal" to get your ticket and FREE drink!