Wine Tasting
SPECIAL WINE TASTING EVENT
Exclusive wine tasting event with awarding-winning sommelier/ owner Tom Cregan '89
March 18, 2015
6
:
30pm - 8
:
30pm
Rouge et Blanc
48 MacDougal Street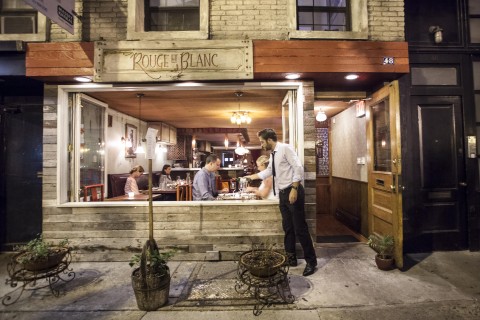 $65 members
/
$70 per person
(Click on links for purchases)
Space Limited
(This event back by popular demand and sold-out last year.)
The Brown Club in NY is pleased to reprise this wonderful evening of food, wine, and entrepreneurship, featuring award-winning sommelier, Tom Cregan '89. Rouge et Blanc is a French-Vietnamese restaurant nestled in the heart of Soho. The New York Times awarded Rouge et Blanc two stars with critic Eric Asimov making a special note of the "thoughtful list of French wines." Owner Tom Cregan developed his skills at notable restaurants like Chanterelle and Beacon and brings more than 20 years of wine-tasting experience from the regions of France. In 2011, he placed eighth in the Best Sommelier in America Competition. Likewise, the restaurant proudly boasts an impressive French wine list. The name Rouge et Blanc is an homage to the wines of France and to the classic Stendhal novel. Chef Macks Collins (Foliage, Jasana Polana Country Club, C.I.A.) has created an east-meets-west French and Vietnamese-inspired menu. The decor is reminiscent of the elegant French colonial style so prevalent in Saigon during the 1940s.
As for the wines, sommelier Tom Cregan has selected the following wines which will be accompanied by small plates.
Sparkling: Domaine du Vieil Orme, Cremant de Loire, Blanc de Blancs Brut. Grape: Chardonnay
White: Domaine Bergeret, Saint-Aubin, Les Murges des Dents de Chien, 1er Cru 2012. Grape: Chardonnay
Rose: Domaine Saint Roch, Touraine 2013. Grape: Gamay
Red: Val Bruyere, Cotes du Rhone Villages 2013 Grapes: Grenache, Syrah, Carignan.


http://www.rougeetblancnyc.com/


Reviews
http://www.theepochtimes.com/n3/1010377-rouge-et-blanc-a-culinary-tale-of-two-countries/
http://www.newyorker.com/magazine/2012/03/12/rouge-et-blanc#ixzz1piDBhfiq
http://www.nytimes.com/2011/11/09/dining/reviews/rouge-et-blanc-nyc-restaurant-review.html?_r=2&emc=eta1