Sing in the New Year!
Special Performance by
the Chattertocks and Jabberwocks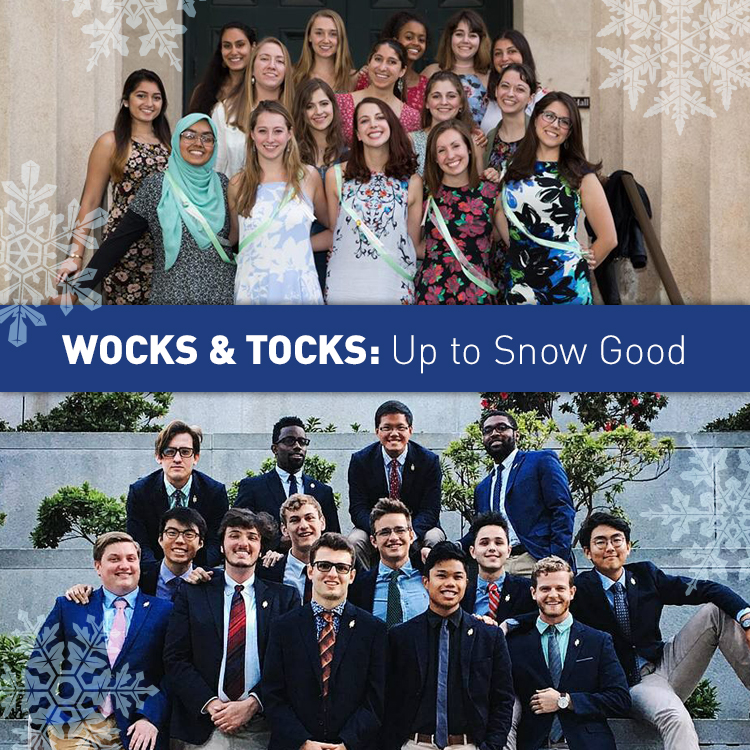 January 13, 2018, 6:30pm - 9:00pm
The Cornell Club - New York, 6 East 44th Street
Price: $15 – Space is limited!
BUY TICKETS NOW

Private reception with beverages and light snacks, $5 cocktails at cash bar (all attendees will receive a ticket for complimentary drink)
Please join the Brown Club in New York for a special one-night only performance featuring two of Brown's beloved a cappella groups, the Chattertocks and Jabberwocks. Here is the perfect opportunity for alumni, family, and friends to reconnect and hear two of the best singing groups on the college music scene today.
Chattertocks
Singing since 1951, the Chattertocks are one of the most popular female a cappella groups in the nation. They have recorded several CDs and competed successfully in the National Championship of College A Cappella since the competition's inception in 1996. In fact, in 1998 the Chattertocks made it to the NCCA finals, which were held in Carnegie Hall! In more recent years, the Chattertocks have maintained their rich tradition of excellence, taking home "Best Album" and "Best Song" in the 2004 Contemporary A Cappella Recording Awards, and have gone on tour all across the eastern seaboard, from Kentucky to Hanover, NH. Most recently, a Chattertocks song has been selected for the Best of College A Cappella 2011 CD by Varsity Vocals, a national honor.
Jabberwocks
Founded in 1949, the Jabberwocks is Brown University's oldest a cappella group. Aside from regular appearances at Brown and college campuses nationwide, the Jabberwocks have performed for a wide variety of audiences. The group has sung everywhere from Carnegie Hall and Lincoln Center to Shea Stadium and Steven Tyler's birthday party. The group also travels extensively – both domestically and internationally – to cities such as Chicago, Nashville, Los Angeles, San Francisco, London, Paris, Amsterdam, Seoul and Hong Kong.
For more info, contact pattigalluzzi@gmail.com or evan.holownia@gmail.com
About The Cornell Club:
Brown University established an affiliate relationship with The Cornell Club in 1993. Since then, alumni and faculty/staff members have enjoyed the vast benefits that a club membership has to offer.
Club members enjoy access to all of The Club's amenities including overnight guest rooms, two dining rooms, business center and work areas, private event rooms, a health & fitness center, and a full calendar of events. Members also have guest access to 135 private clubs in our exclusive reciprocal club network.
Join The Club by January 31st and receive a house credit equal to 50% of your annual dues that that can be applied to house use such as dining or guest rooms. To learn more about the benefits of membership, we invite you to visit our website, view a list of our 135 reciprocal clubs, and visit our About the Club page to read what members are saying about their favorite perks.
Special Offer: Attendees can reserve a room at The Cornell Club for the weekend of this performance by contacting k.strassel@cornellclubnyc.com