The Chekhov Dreams
True love never dies. And that's the problem.
Special Theater Event Including Talkback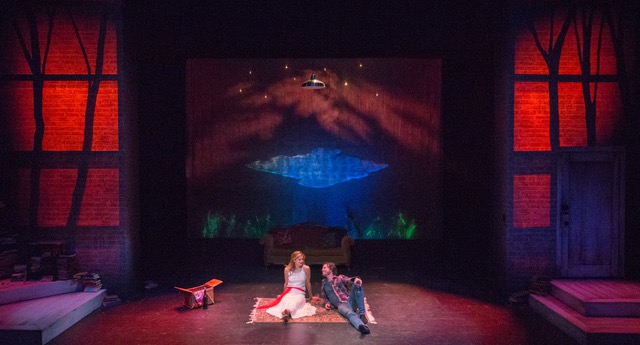 When: February 16, 2018 at 8:00pm
Where: Beckett Theatre at Theatre Row, 410 W. 42nd St., NYC (just west of Ninth Ave)
$25 for seats regularly priced at $44.25
Ticket sales have ended
You are invited to join us for another special Brown Club in NY theater event. The Chekhov Dreams by John McKinney is a dark, romantic comedy involving death, loss, literature and suicide but it is also about love, hope, dreams and letting go of the past in order to move on. To those acquainted with the works of Chekhov it will also be seen as a (very) loose adaptation of The Seagull.
Jeremy's fiancée is a total catch. She's beautiful. She's whip-smart. She's captivating. Unfortunately, she's also dead. But hey, no relationship's perfect, right? To get around this little wrinkle, Jeremy keeps the flame burning by bringing her to life every night in his dreams. Only trouble is, she's not content staying in his dreams, and soon begins to pop up in his real life at awkward moments. To complicate matters further, he's finding himself attracted to his cute but overly curious scene partner in an acting class, creating a precarious love triangle that will have deadly consequences – unless he can learn a valuable lesson from a scene by Anton Chekhov, the one writer he loathes.
The Chekhov Dreams is being directed by Drama Desk nominee Leslie Kincaid Burby, winner of both the NYIT and FringeNYC awards for best director. Tony Award nominee Jeremy Handelman '77 is Executive Producer and will moderate a talkback with Burby and members of the cast.
Note: Tickets> will only be distributed by a Brown Club representative on the day of the show (February 16) beginning at 7:15pm either just inside or just outside the front entrance. Please do NOT go to the box office window and please arrive no later than 6:45pm. Tickets will NOT be sent via mail or email.
If you have any questions, please contact Jeremy Handelman at JH@OffTheLeashProductions.com.