Miss You Like Hell
Nominated for 5 Drama Desk Awards and
3 Outer Critics Circle Awards including
Outstanding New Musical
Theater plus talkback with composer and lyricist Erin McKeown '00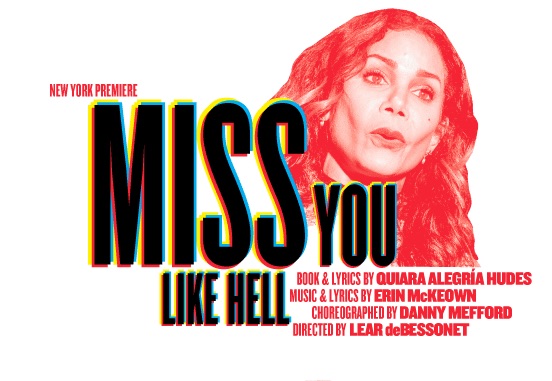 When: May 12, 2018 @ 2:00pm
Where: The Public Theater, 425 Lafayette St, NYC
Tickets are no longer availble
Miss You Like Hell, with book & lyrics by Pulitzer Prize winner Quiara Alegría Hudes (Brown MFA) and music & lyrics by singer/songwriter Erin McKeown (Class of '00), has been nominated for five Drama Desk Awards: Outstanding Music, Outstanding Lyrics, 2 Outstanding Actress noms and Outstanding Orchestrations. And it received three Outer Critics Circle Awards nominations: Outstanding New Off-Broadway Musical, Outstanding Book of a Musical (Broadway or Off-Broadway) and Outstanding New Score (Broadway or Off-Broadway).
Join us to see this timely and compelling production about a road trip taken by an undocumented immigrant on the verge of deportation with her estranged daughter. Together they meet Americans of different background, shared dreams, and complicated truths in this powerful new show with vast heart and fierce humor.
Erin McKeown will be with us for a post-show talkback and we're awaiting word as to whether Quiara Alegría Hudes will be there as well. Miss You Like Hell stars Broadway veteran Daphne Rubin-Vega ("never been better" - LNY Times) and a searing performance by Gizel Jiménez ("eye-opening" - LNY Times). Obie Award-winning director Lear de Bessonet leads the creative team that includes choreographer Danny Mefford, another Brown MFA.
Tickets will only be distributed by a Brown Club representative inside the main lobby of The Public on the day of the show (May 12) beginning at 1:15pm. Please do NOT go to the box office and please arrive no later than 6:45pm. Tickets will NOT be sent via mail or email.
If you have any questions, please contact Jeremy Handelman at JH@OffTheLeashProductions.com.