"The War on Normal People"
A Conversation with Andrew Yang
Join the Brown Club in New York for an insightful talk by Venture for America founder, Andrew Yang. In his new book, The War on Normal People, Andrew offers an eye-opening look at how new technologies are erasing millions of jobs and a rallying cry for the urgent steps America must take to stabilize our economy for the long term.

Copies of the book will be offered at a discount price and Andrew Yang will be available for book signing!
Wednesday, June 20th
7:00 - 8:00 pm reception
8:00 - 9:00 pm Talk and Q&A
Engelman Recital Hall at Baruch Performing Arts Center 55 Lexington Avenue @ 25th Street (between Lexington & 3rd)
The War on Normal People
Good jobs are disappearing. New technologies like robots and AI have been great for business, but are on pace to displace millions of American workers. The American workforce is in a more fragile situation than many people and policymakers realize. In the next twelve years alone, a third of all American workers are at risk of permanently losing their jobs, setting the stage for a crisis far worse than the Great Depression. If we want a bright future, we have to do something we've never done before—and we have to do it now.
In The War on Normal People, Andrew imagines a different future—one in which people are still able to prosper and seek fulfillment through the automation wave. At the center of this vision is Universal Basic Income, a form of social security that provides every American adult with a monthly $1,000 check, no strings attached; it's an idea rapidly gaining popularity among forward-thinking politicians and economists. Andrew makes the case for UBI as an essential step toward a new, more durable kind of economy, one that puts people first.
---
About Andrew Yang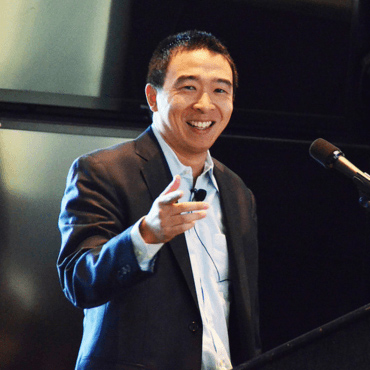 Andrew Yang is an entrepreneur and author. In 2011 he founded Venture for America, a national entrepreneurship fellowship, and spent the last 6 years helping to create more than 2,500 jobs in cities like Cleveland, Detroit, and Pittsburgh. When Andrew realized that new technologies like artificial intelligence and automation threatened to eliminate one-third of all American jobs, he set out to articulate the urgency of this threat, and to propose a path towards stability and abundance. In The War on Normal People (April 2018), he details the mounting crisis and makes the case for a Universal Basic Income: $1,000 a month for every American adult, no strings attached.
---
Questions? Contact patti.galluzzi@brownnyc.org