Tickets To Broadway Hit "Straight White Men"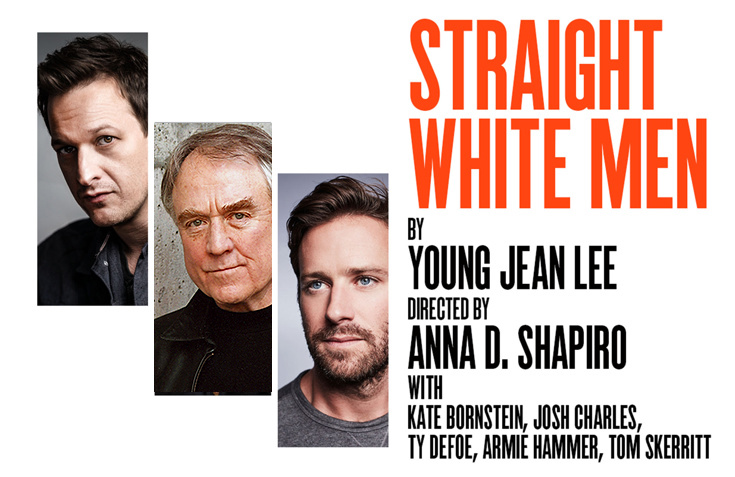 Friday, September 7, 8:00 pm
Hayes Theater
240 West 44th Street
The Brown Club In New York and Brown TBGALA are pleased to offer a limited number of seats to the Broadway production of Straight White Men by award-winning playwright Young Jean Lee. The play is a thought-provoking exploration of privilege, identity, and American values. It focuses on what happens when a father and his three adult sons come together to celebrate Christmas over board games and takeout.
The cast features many familiar names from film and television like Armie Hammer, Paul Schneider, Josh Charles, and Kate Bornstein '69 (who is currently on the cover of Brown Alumni Magazine!)
Interestingly, the play was developed during a six-week theater residency at Brown University in 2013 and has the distinction of being the first Broadway play written by an Asian American woman.
The reviews are in!
The New York Times' Jesse Green - NYT Critic's Pick - "... "Straight White Men" is still an exceedingly odd — and thus welcome — presence on Broadway."
read more...
Broadway News' Charles Isherwood - " "Straight White Men," a smart, funny and affecting play that reaffirms Lee's status as one of the most important playwrights working today, questions traditional notions of what a successful life might mean ..."
read more...
Variety's Marilyn Stasio - "... Young Jean Lee's cutting but deeply humane satire about straight white male privilege and pain ... director Anna D. Shapiro's super-smart production ..."
read more...