Freestyle Love Supreme on Broadway
The improv hip-hop musical from Lin-Manuel Miranda, Thomas Kail and Anthony Veneziale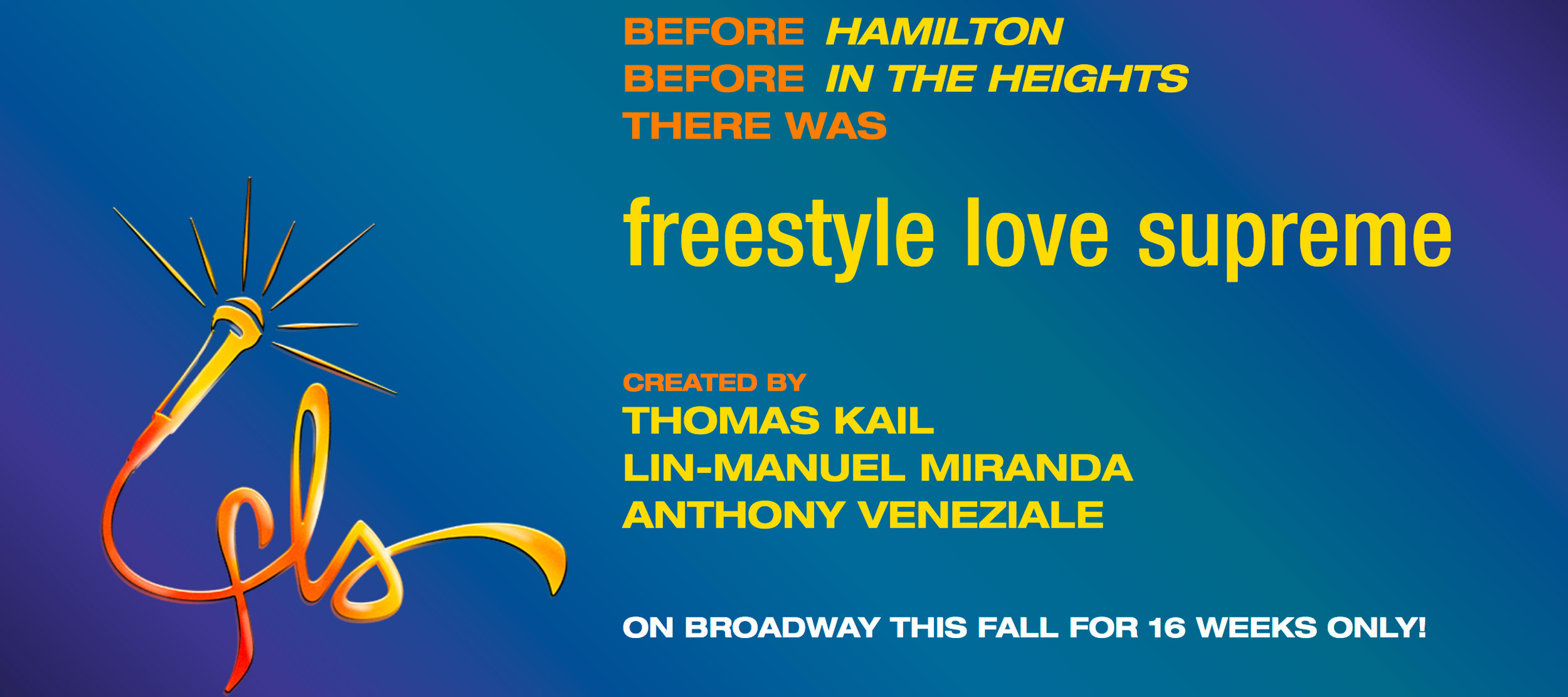 It's been rave reviews for Freestyle Love Supreme, which enjoyed a sold-out run downtown earlier this year and is now packing in audiences on Broadway. The producing team includes Brown alum Jill Furman (one of the producers of Hamilton). We are fortunate to have a limited number of orchestra and front mezzanine tickets for Brown Club in NY members for the Sunday, November 17th performance at 7pm. This will sell out very quickly.
The cast takes cues from the audience to riff, rap, and cypher. There is a rotating core cast of performers but the show frequently has special guests such as Lin-Manuel Miranda, Brown alum Daveed Diggs, Chris Jackson and Wayne Brady. However, special guests are not scheduled in advance so we do NOT know who will be on stage at our performance.
"This exultant evening of improvised rap turns out to be a perfect fit for Broadway." - The NY Times Critics' Pick
"Fast, furious, funny, and wildly entertaining." - The Hollywood Reporter
"Freestyle Love Supreme rhymes up a hugely entertaining storm on Broadway." - TimeOut New York
Sunday, November 17, 2019 at 7pm
Booth Theatre
222 West 45th Street
(between Broadway and 8th Ave)
Running Time: 90 minutes; no intermission.
SOLD OUT!
Purchase can only be made by Brown Club members and is limited to two tickets.
Tickets will only be distributed by a Brown Club representative at the theatre from 6pm to 6:30pm. Please do NOT go to the box office and please arrive no later than 6:30pm. Freestyle Love Supreme uses Yondr, pouches that lock up your cell phone, so it takes extra time before you get to your seat.
When you get to your aisle, a Yondr rep will ask you for your cell phone, Apple watch, etc., before an usher hands you a Playbill and escorts you to your row. You will turn off the device or select airplane mode and place it in a neoprene pouch. The reps close the pouch (it looks like a security tag on clothing) that can only be opened with their magnetic devices upon exit after the show. Also note that it will take a bit more time to exit the theatre as you'll have to stop at a Yondr rep to unlock the pouch.
But there is a bonus for getting to the theatre early. There is one game where a freestyler must begin a rap and then incorporate new words as they are pulled from the bucket of audience submissions. If you want to throw a word in, you'll have to arrive to the theatre with time to spare (half hour or 20 minutes to curtain should be safe).
For additional information, please contact Jeremy Handelman at JH@brownnyc.org.