Upcoming Events...

Friday, 4/25/14 at 6:30pm - 8:30pm ...2 days away!

Sunday, 5/4/14 at 3:00pm - 5:00pm ...11 days away!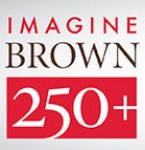 Thursday, 5/15/14 at 6:00pm - 10:00pm
The Brown Club in NY invites you to a private reception celebrating 250 years of the most interesting university on Earth—Brown.

Wednesday, 5/21/14 at 6:30pm - 8:30pm
Join the Brown Club in New York as five distinguished alumni panelists talk about their experiences starting companies, leveraging private-sector experiences, and leading social good organizations to better our world.
RSS | more
Recent Events...

Wednesday, 04/16/14 8:30am
Event #1: Calling all Brown Entrepreneurs and Investors
Thursday, 04/3/14 6:30pm
In honor of 250 years for Brown and 92 days of the year for, well, us...

Friday, 03/28/14 3:15pm
THE BROWN CLUB IN NY INVITES YOU TO A CHOICE OF TWO UPCOMING EVENTS...FIRST STARTS AT 3:15 P.M., SECOND STARTS AT 5:30 P.M.

Friday, 03/21/14 8:00pm
Fault Line Theatre presents the world premiere of a play from the writer of Farragut North and House of Cards.

Wednesday, 03/19/14 6:30pm
Exclusive wine tasting event with awarding-winning sommelier Tom Cregan '89
more
Latest News...


Calling all alumni working in film, television, theatre, media, music, and other forms of entertainment.